CAFP's first All Member Advocacy Meeting (AMAM) in Sacramento was a smashing success by all accounts – particularly attendance and enthusiasm quotient, both of which set new records!  The AMAM adopted a resolution continuing a special assessment to support the Academy's legislative activities but raising the amount by $10 to $35 and extending the time period by five years to 10 years total.  The AMAM also adopted a memorial resolution for past president Holger Rasmussen, who died on February 3, 2013.  The Board heard testimony on three resolutions pertaining to services for patients with special needs, emergency contraception and vasectomy and will consider what action to take over the course of the year.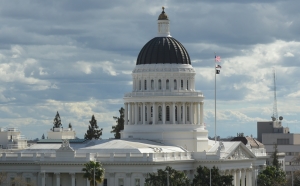 In keeping with the principle that we should "get 'em young and teach 'em to advocate," county chapters paid for and brought along medical students and residents so they could learn the issues and legislative ropes and have the opportunity to be mentored on their first visits to legislators on CAFP's Lobby Day on March 3.  Around 110 attended the AMAM and 56 were on hand to meet with their legislators Monday, 24 more than at last year's Lobby Day!  If more attend next year, we'll have to take TWO photos to get them all in.
In this episode, we speak with a number of individuals about the importance of the AMAM, as well as other family medicine-related topics.
Dates for the 2015 All Member Advocacy Meeting are Saturday and Sunday, March 7-8, and CAFP's Lobby Day is Monday, March 9.  Mark your calendars now – don't miss out on this exciting and informative event guaranteed to recharge your family medicine batteries.
---
Stay up to date by subscribing to the podcast on iTunes or other media players.