CAFP has launched their 2014: Year of the Family Physician campaign and is looking for your participation! We've started our year campaign with our #2014YearFP photo campaign to help raise awareness of the family medicine specialty and we're looking for your participation.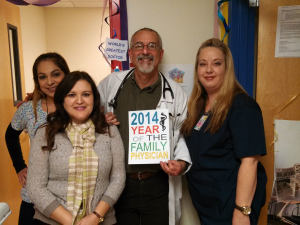 Family medicine encompasses all ages, sexes, each organ system and every disease entity; we pay special attention to our patients' lives within the context and the community, and have the unique opportunity to affect the health of individual patient over that person's entire lifetime. However, there is a lack of awareness of the critical role family physicians play for patients and communities.  There's a significant demand for experienced and well-trained healthcare professionals who can treat a wide variety of health conditions and compassionately guide patients through our complex health care system.  Now is the time to show everyone that we've got the right stuff!
To get involved, go to the #2014YearFP page on familydocs.org and follow the 3 simple steps: download the #2014YearFP signboard, take a photo and send it to CAFP! Help us celebrate family medicine and prove that 2014 will be the "Year of the Family Physician." You can also Tweet or Instagram your photo by using the hashtag #2014YearFP. You can also post it to the CAFP Facebook wall.